Today in fabulous guest bloggers, my awesome friend Jenn is here to talk about one of her and my favorite topics – dogs. Jenn has a lifestyle blog where she often talks about fashion and beauty (her subscription box reviews are some of my favorites), but like me, she's always looking for an excuse to talk about her beloved pup. This is especially poignant after my post last week where a woman tried to shame me for disciplining my own dog, much to my frustration. It looks like I'm not alone in my annoyance about how other dog owners act. Take it away, Jenn!
Hi, Oddly Lovely readers! I'm Jenn, and I blog over at hellorigby.com, mostly about fashion and beauty, but my dog, Rigby, a 2-year-old Shiba Inu also makes appearances from time to time.
Since Cat is a fellow dog owner, I thought it would be fun to share a list of things (most) dog owners hate, and a few anecdotes of my own to go along with them. Ironically, most of my "peeves" deal with fellow dog owners who make the rest of us look bad. I know my dog has his quirks (he is a Shiba after all!), but I do my best to prevent my dog or myself from compromising situations. Obviously accidents and mistakes happen, but this list is mostly a satirical poke at a few things that have happened to Rigby and I over my 2.5 years of dog ownership!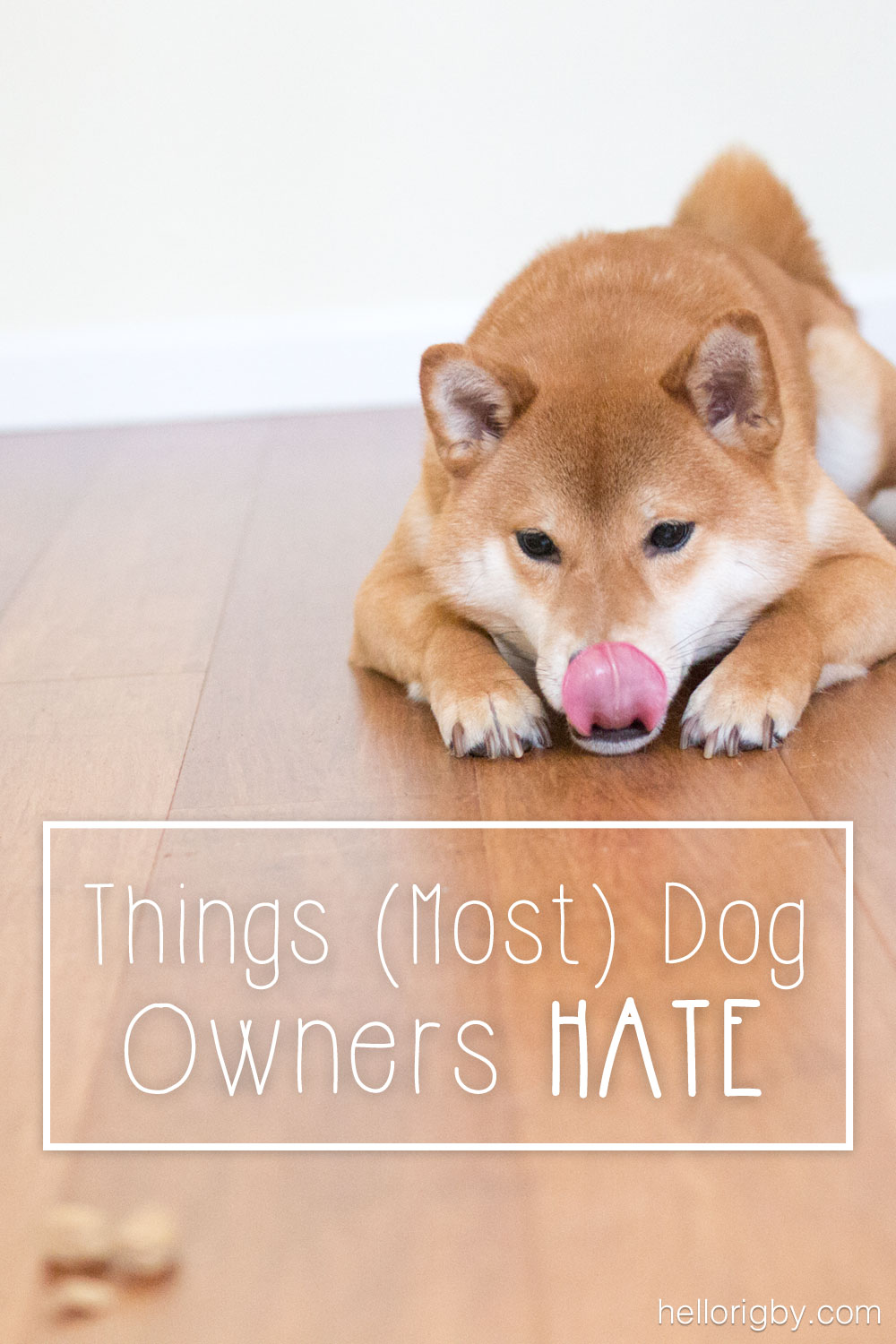 5 Things (Most) Dog Owners Hate
1. Retractable Leashes (and the clueless owner on the other end)
Now, I admit, I owned one for all of… two days. When we got Rigby, I popped into Target and got a leash, like a good owner. But, I got a retractable leash. Used in certain situations I suppose they are fine. Actually, come to think of it, they're more dangerous to both owner and dog (they can break or snap, and also cause some pretty serious burns and cuts). Not to mention, almost every dog owner we've run across with them uses them incorrectly. They see us coming, and they let 'er rip. They release the mechanism, and some crazy yapping dog comes charging at us while I tell them "please don't do that" as we start scrambling the other way. The worst was one time during a training session (with a trainer that cost us $100/hour no less!) a dog owner yelled "my dog is friendly!" and let the retractable leash loose. My trainer lost it on the owner. Hopefully he never does that again because what if the next dog isn't friendly?!
2. Not asking if it's okay to pet my dog before you do
Okay, story time. When Rigby was a wee little pup, I took him to work with me every day. One day, Rigby was in his crate chilling (still working on being potty trained, he did not have free reign of the office yet!) when a bunch of strangers with suitcases came in. Our CEO went to greet them, and Rigby started freaking out. Barking and yipping, he thought it was going to be a good old time. Of course they wanted to see the puppy, so I let him out of his crate. And then it happened. One of them picked up my puppy, tucking him like a baby on his back and whisked him up into the air. I about died of shock. This is just not something you do to a dog you just met! Luckily I trained Rigby from a young age to be okay with being picked up all the time, so it was fine… but yikes, that could have ended badly.
3. Insisting my dog is not really a dog
Maybe this is only an issue if you have an "unusual" looking dog breed like mine (Shiba Inu) but I'm going to venture a guess that Cat has experienced this too! They're the know-it-all type who insists that Rigby is a rare fox-dog-wolf-coyote-dingo-cat hybrid from Czechoslovakia or some other place that no longer exists. It never ceases to make me laugh, and now I just agree with them and walk away. 😉
4. Telling me how to train my dog
I'm not going to lie – I take training my dog pretty seriously, and I try to stay up to date on what's going on in the positive reinforcement dog training community. I'm also well aware my dog is not perfect, and he's always "in training." But just like I don't tell friends, or even strangers, how to raise their children, I do not tell people how to train their pet. (Unless asked of course, and then I'm only sharing what worked for me!)
5. Not cleaning up after your pet
This is my boyfriend's #1 pet peeve, especially of our neighbors. You see we live in a condo, so our "backyard" is shared common ground. We have a neighbor with four dogs, and they never pick up their dog's waste. Apparently the rest of our condo neighbors got the same memo because I step in dog poo when I take Rigby out at night almost always. Please, for the love of my shoes, clean up after your pet!
And that's it for the things that drive me absolutely nuts as a dog owner. Did I miss something? If you're a fellow dog (or cat!) owner, I'd love to hear your pet peeves in the comments!